Last Updated: September 22, 2023
Workers who spend the majority of their time in a seated or standing position may develop musculoskeletal injuries over time. EHS has developed a number of resources related to office ergonomics, including guidance on proper workstation setup.
University of Toronto employees may request EHS for an in-person or virtual ergonomic assessment of their computer workstation. During the assessment, EHS will conduct an evaluation of the employee's workstation and make recommendations for adjustments to positioning or new office furniture where necessary.
Procedures for an Office Ergonomic Assessment
Log into My EHS Training and register for the online EHS536 Office Ergonomics Course (Quercus). View the training presentation and successfully complete the quiz.
Complete the Office Ergonomics: Workstation Self-Assessment

online form.

Implement the changes to your workstation per the online training and self-assessment. Speak to your supervisor if new equipment is required.

Note: The purchase of basic office furniture (e.g. keyboard tray, office chair) or replacement of broken furniture does not require an EHS assessment.
If ergonomic issues continue to persist after a few weeks, contact EHS (

ehs.office@utoronto.ca

) for additional assistance and to arrange for an ergonomic assessment.


Note: EHS does not provide recommendations for acquiring sit-stand workstations or other specialized ergonomic equipment.

If your medical condition interferes with your ability to do your job, contact Health & Well-Being to discuss the possibility of a workplace accommodation. Specialized ergonomic equipment may be provided to employees who have ongoing restrictions and limitations due to documented conditions.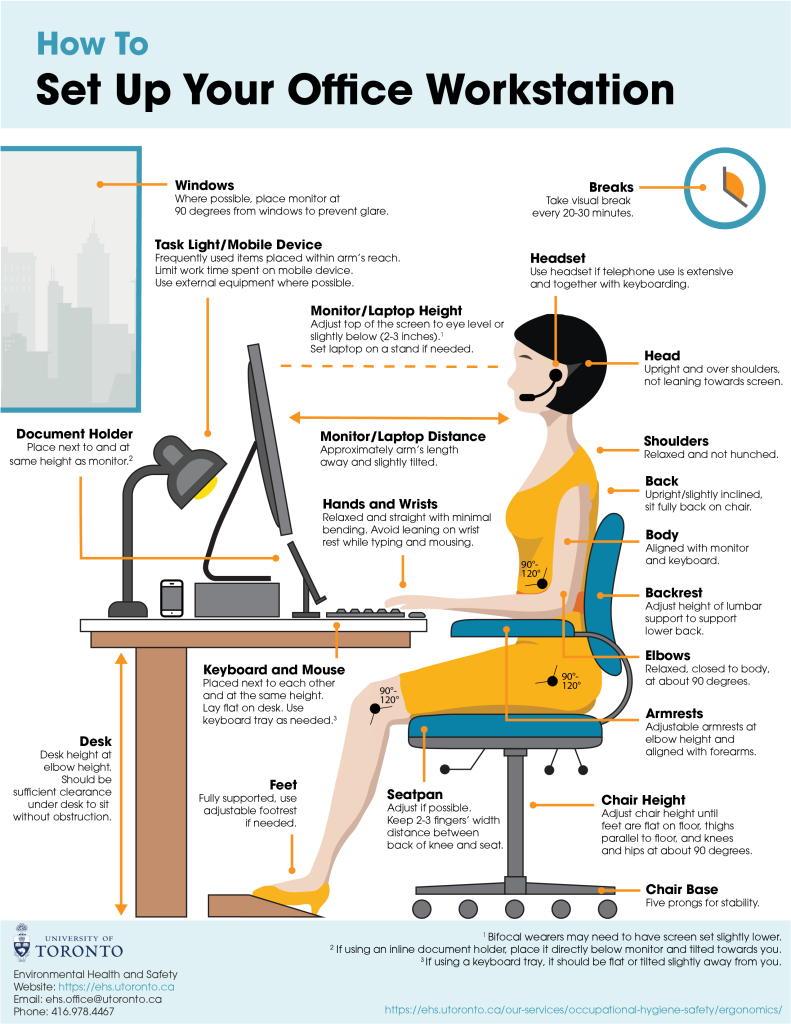 ---
Popular Resources
---
Work from Home (Telecommuting) Resources
As part of the University of Toronto's commitment to providing formal requests and opportunities for staff to participate in Alternative Work Arrangements, the University announced a new Employee Purchase Program for ergonomic desk chairs, intended for home use and offered through Grand and Toy and Staples. Please refer to the following memo from Erin Jackson (Chief Human Resources Officer) for detailed instructions on how to make a purchase.
After a flexible work arrangement has been approved by your supervisor, employees can use the following checklist to ensure their home office is set up correctly.
---
Office Chair and Desk Suppliers
(examples used by some UofT departments)
Ergonomic Keyboards and Mice Suppliers
---
Common Chair Adjustment Videos
---
Additional Resources