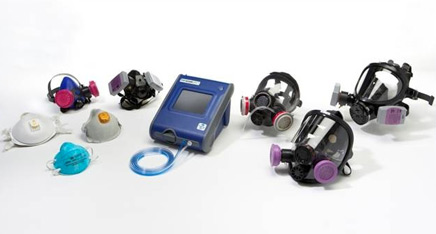 To complete Respiratory Protection Training and sign up for a Respirator Fit Test, follow these instructions:
Updated: Oct 16, 2023
Please note: The St. George EHS Respiratory Fit Testing equipment will be due for annual calibration in mid-November. During that time, fit testing will not be available on St. George Campus for a 3-4 week period.
The last respirator fit test session for 2023 will be held on Tuesday, November 14th. Fit testing will resume in January 2024 (after the UofT holiday closure).
---
Instructions
Log into My EHS Training with your UTORid and password and register for EHS532 Respiratory Protection Training (Online).
Once registered, individuals will receive instructions on how to access the course on Quercus.
View the online training presentation in Quercus and complete the quiz with a minimum grade of 70%.
Complete the Respiratory User Screening Form (Word version and PDF version).
Bring the completed form to the fit-test appointment.
Book your respirator fit-test appointment with your local EHS office using the links found on the homepage of the EHS 532 Respiratory Protection Training course (Quercus).
---
Important Notes
For St. George Campus: fit-testing will only take place during the allotted time frames provided by EHS at the EHS office located at 215 Huron Street, 7th Floor – Seminar Room (unless otherwise specified).
Individuals must be clean-shaven where the respirator is in contact with the face in order to be fit-tested.
For participants who wish to be fitted for N95 respirators, please bring any NIOSH-approved models available to you to the fit test. If not available, the fit tester will fit you on an available Moldex model, which can be purchased from the UofT Medstore afterwards. To confirm if an N95 respirator is NIOSH-approved, look for the TC approval code (e.g., "TC-84-XXXX") on the respirator or packaging.

Participants who have a 3M or Honeywell North brand elastomeric respirator (half-face or full-face) may bring their existing respirator for the fit-test. If you do not already have one, the fit tester will fit you on an available Honeywell North model, which can be purchased from the

UofT MedStore or USource afterwards.
Important

:

Although Health Canada has authorized the use of some KN95 respirators for use related to COVID-19, KN95 respirators are not NIOSH-approved. As such, EHS will not be able to fit test participants on KN95 models.
Important

:

Students who need a respirator fit test for a placement at an off-campus location (e.g., hospital) or undergraduate dental students who need a respirator fit test for clinical work must arrange for their fit test with a 3rd-party vendor through their faculty or department. Speak to your faculty/department contact.

*EHS may conduct periodic review (or audit) of users registering for fit tests and may contact you/your supervisor for further information.

Important

:

Placement locations are responsible for providing training on hazards and procedures that are required at the placement site. If the placement site is unable to provide respirator fit testing, please send details to EHS for review including relevant contact details of the placement site coordinator and UofT placement coordinator.

Important

:

Respirator users who intend on only wearing loose-fitting facepiece respirators (e.g., PAPRs with hoods/headcovers) that do not require a fit test must still complete the online EHS532 Respiratory Protection Training course on Quercus and submit a completed Respiratory User Screening Form to EHS.
---
Resources