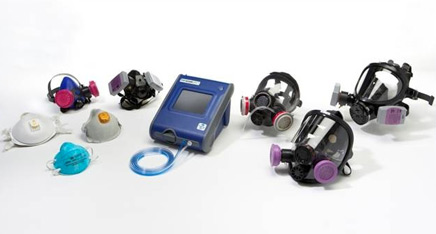 Getting Started
Updated: June 23, 2022
To complete Respiratory Protection Training and sign up for a Respirator Fit Test, follow these instructions:
Log into My EHS Training with your UTORid and password and register for EHS532 Respiratory Protection Training (Online). 
Once registered, individuals will receive instructions on how to access the course on Quercus.
View the online training presentation in Quercus and complete the quiz with a minimum grade of 70%. 
Complete the Respiratory User Screen Form (Word version and PDF version).   
Please bring the completed form to the fit-test appointment.
Book your respirator fit-test appointment with your local EHS office using the links found on the homepage of the EHS 532 Respiratory Protection Training course (Quercus).
---
Additional Notes


For St. George Campus: fit-testing will only take place during the allotted time frames provided by EHS at the EHS office located at 215 Huron Street, 7th Floor – Seminar Room (unless otherwise specified).
Individuals must be clean-shaven where the respirator is in contact with the face in order to be fit-tested.
For participants who wish to be fitted for N95 respirators, please bring any NIOSH-approved models available to you to the fit test (unless otherwise specified). If not available, the fit tester will fit you on an available Moldex model, which can be purchased from the UofT Medstore afterwards. To confirm if an N95 respirator is NIOSH-approved, look for the TC approval code (e.g., "TC-84-XXXX") on the respirator or packaging.

IMPORTANT

: Until further notice, EHS will only be fit-testing individuals on elastomeric respirators (half-face and full-face) if the user brings their own respirator for the fit-test. Only North or 3M brand elastomeric respirators will be accepted. If departments would like to pre-order a respirator for the fit-test, they can contact EHS to determine which size and model to order. Please note that the recommended respirator is not a guarantee that the individual will successfully pass the fit-test.
---
Resources