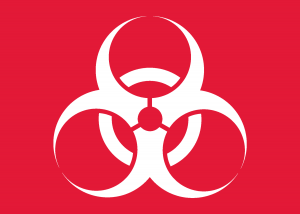 The University of Toronto Biosafety Program is designed to protect lab personnel and the public from potential exposure to infectious agents, and to prevent the release of agents harmful to plants or animals. The program includes a number of components such as determining laboratory containment requirements (physical and operational controls); medical surveillance (including immunization where appropriate); classroom and online training; and compliance with regulatory requirements for importing and shipping biological agents.
Overall control of the program is through the University's Institutional Biosafety Committee with administrative and technical support provided by the Biosafety Team in the Office of Environmental Health and Safety.
---
Poliovirus Infectious Materials Questionnaire NEW!
Invertebrates, Plants and Soil Questionnaire
---
---
Biosafety Manual
---
---
Laboratory Standards
---
Lab Decommissioning
If you are vacating a lab room, you are responsible for leaving it in a state suitable for re-occupancy or renovation.
---
Importing/Shipping
** Note: All applications for import permits must be signed by the Senior Biosafety Officer before submitting to the Pathogen Regulation Directorate. If you wish to import a biological agent that is not listed on your U of T biosafety certificate, an amendment to your certificate must be approved before applying to import. **

---
Safety Practice and Procedures
---
Images (photo, video etc.) Guidelines for Research & Teaching Laboratories